A high school senior won a $40,000 scholarship. Then she gave it up.
Verda Tetteh, 17, was awarded the scholarship during the graduation ceremony at her Massachusetts high school. Moments later, she returned it and said it should go to a student who needed...

Read more

Posted by Maria Cramer on June, 15 2021
Lady graduates with 1st class after dad could not pay fees due to financial constraints
A Nigerian lady defied the odds and sent herself to the higher institution after her father was unable to sopnsor her due to financial constraints . Esther Nwankwo says her determination...

Read more

Posted by Tunde Ososanya on August, 20 2020
FUD's best student scores 4.96 points out of 5
Vice Chancellor of Federal University Dutse (FUD), Jigawa State, Professor Fatima Batul Mukhtar has said that Zandam Abubakar Yakubu of the Department of Computer Science who scored 4.96 on a class...

Read more

Posted by Tijjani Ibrahim, on March, 19 2020
Nigerian Girl Emerges Overall Best Graduate In Hungarian University
A Nigerian girl has shone like the stars in academic exploit in the distant shores of Hungary. Miss Amarachi Onyinyechi Osuji came up tops with a First Class degree in Chemical...

Read more

Posted by Ken Asinobi on January, 26 2020
Nigerian Emerges Best Graduating Female Student in Accra Institute of Technology, Ghana.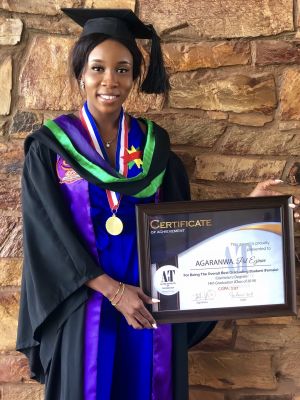 A Nigerian named Agbaranwa Ezinne has emerged the overall best graduating female student with a First Class Honours Bachelor of Science Degree in Information Technology from the Accra Institute of Technology, Ghana....

Read more

Posted by Publisher on August, 22 2019
Nigerian girl wins 20 gold medals and 5 cash awards, shatters University of Mysore's record
Emelife Stella Chinelo, a 28-year-old from Nigeria, had returned to her country only recently after learning that she has topped the University of Mysore in MSc Chemistry. Published: 18th March 2019 07:11...

Read more

Posted by New Indian Express on March, 18 2019
45-year-old emerges NOUN's best graduating student
Many adult Nigerians without formal education would say age and family responsibilities discourage them from starting studying and any form of schooling. But Bala Magaji, 45, a father of seven who...

Read more

Posted by Premium Times on March, 23 2019
American University of Nigeria honours best graduating students
An Accounting graduate at the American University of Nigeria, Yola, Benedict Egwuchukwu, was Friday named the best graduating student of the university. An indigene of Imo State, Mr Egwuchukwu scored a...

Read more

Posted by Premium Times on May, 23 2018
My secret of making CGPA of 4.94: I did not have a girlfriend - Best Graduating Student
The Ogun-born Ogunlana finished from the Department of Political Science, College of Business and Social Sciences with CGPA of 4.94. The overall best graduating student of the Crawford University, Igbesa in...

Read more

Posted by Admin on December, 17 2017
Nigerian girl emerges best graduating student at American university
20 year old Delta state born Merrilyn Akpapuna (pictured above) on May 10th 2014 emerged overall Best Graduating Student of Dillard University, an Ivy League school in New Orleans, USA.Merrilyn, the...

Read more

Posted by Editor on May, 10 2014